Catch It
All functions are contained in one small sized box. The front panel has a couple of LED indicators to reveal the most important happenings. There is also a small numerical keypad from which a number of tasks can be performed, such as arm/disarm Catch It, send mail with images etc.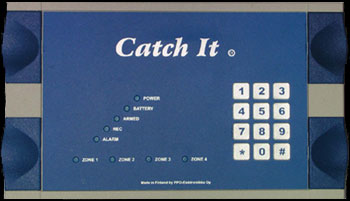 Power, cameras, fire detectors etc. are all connected at the bottom front side.
Catch It is available together with other types of protective shielding etc. Please consult the Catch It brochure or any of the listed contacts.